So, I figured it was high time I watched an episode of
The Batman
, the latest attempt at a Batman animated TV show. It aired from 2004 to 2008. I'd resisted watching it becuase I'd seen what Batman looked like, and it didn't jive with me. Watching an episode only made it worse.
First of all, let me just visually show you a few of the characters. I'll compare them with Bruce Timm's character design from the earlier Batman the Animated Series (which had amazing character design).
First, Batman himself.
I wish I could find a picture on the web of how they draw him when he walks. His body mass disappears and he becomes an emo vampire - his too long cape extending onto the floor as he glides across the room. Seriously, Batman wouldn't have a cape that long. It really would just get in the way of his martial arts based fighting style. Also, it looks ridiculous. It makes him look like an emo-vampire wannabe. Not bad ass at all.
Here's the Bruce Timm version:
I'm also going to take this moment to show you the facial design of Bruce Wayne. I could only find the The Batman version, so brace yourselves.
He looks ASIAN! WTF!? He looks more like something out of The Jackie Chan Adventures! Not like Bruce muthafuckin Wayne!
[edit: I have since discovered that the character designer for this show
was
the character designer for the Jackie Chan Adventures. Now it all makes sense. *goes to vomit*]
Moving on, here's how they designed Batgirl:
Honestly, I don't even know what to say other than "shoot me please." I really just can't stand the character design. It doesn't work at all! A little purple dress. Really? Her boss is a billionare playboy in his other life, surely he has a sense of taste and would never let her wear that.
Bruce Timm's Batgirl:
For a change, here are a few villains. Poison Ivy and the Joker:
Poison Ivy looks pre-pubescent (odd of a woman who'se schtick is controlling men with pheramones. And the Joker has DREADLOCKS! DREADLOCKS! I can't even
begin
to articulate how
wrong
that is!
Bruce Timm's versions: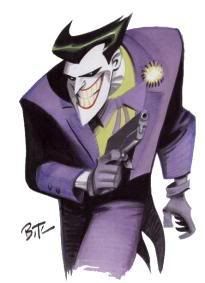 Whew! *stops having a heart attack*
So, in terms of character design, this show sucks major balls. I just looks like bad anime fanart that you might find in the recesses of Deviantart or something. The anime style thing worked with the Teen Titans - it was a show with young characters and the overly stylized animation suited the over the top style of the dialogue. And it worked becuase they were all teens, no bad ass brooding adults involved. But they really just failed with The Batman. Batman is just not this kind of anime character. There are anime styles that could have worked (ie.
Gotham Knight
)... just not this one, really. It has just further reinforced my initial feeling that I don't want my goofy anime and Batman anywhere near each other! Pretty much, this show is summed up by Adam West Batman meets Anime emo/vampire. Even the logo is cheezy! Really..... bleh! They dummed it down for the kiddies, made Batman almost cheerful. (wtf!) Also, Batman starts the Justice League and has to convince Superman to join. SUPERMAN's the loner now!!!???? (and not even in the Smallville 'I'm trying to figure things out' sortof way, but in the surly, 'I don't get along with others' sort of way) Batman at one point complains that Superman's not very talkative when he takes off midway through Batman trying to speak to him. Maybe there was a personality switching ray in an earlier episode... I hope.
God, I don't even know what else to say. I had a much larger rant that I was prepared to write, but really, I think the pictures speak for themselves. The writing isn't much better. It really is an anime version of the Adam West Batman... only more emo-kid. Not dark and mysterious... emo-kid.
I'm going to go watch Batman the Animated Series now and try not to kill myself over how they mutilated the character. Bruce Timm's shows were so good! They got the characters, were entertaining, but had a degree of depth. The Batman is just a load of crap, plain and simple. Especially when compared to what preceeded it. Warner Bros, you had gold with Batman TAS, and now you've given us shit. Well done.